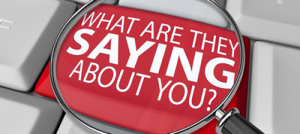 Each of us have good and bad experiences when dealing with other businesses. It's just a fact of life. But what happens when someone had a bad experience with your business? Do you know what they're saying, where they're saying it, and how to respond?
Online Reputation Management (ORM) is a public relations phrase, which was coined as a fancy way of saying "don't have your head in the sand. Bad and good things are being said about you online and you should know!"
Thanks to technology and social media, disgruntled customers, clients, employees, and others who interact with your business have the opportunity to express their opinions about their experiences. Whether you believe they're right or wrong isn't the issue. They're out there and their voices are being heard.
Some of the clients for whom we've implemented an ORM strategy are surprised to find that their business was being reviewed on more than just their Facebook page or Google business listing. There are a plethora of review sites and you need to know where they are!
Making yourself aware of the places that your business is listed online is just the first step. Many of you are in a specific industry and thus, you'll find that you're listed on industry-specific sites and general sites like Yelp.com, YellowPages.com, and many more.
Here's a rough overview of the ORM process and how it can help protect your business:
Review Sites: We research and index each of the review sites that list your business.
Alerts: We use both free and subscription-based software platforms to create alerts for your business name and those of your employees who are most likely to be mentioned in a review. These alerts provide us with immediate notification that someone's talking about your business and/or an employee.
Page Differentiation: Not every reviewer will mention your business and/or an employee by name. It seems strange but here's an example. Let's say that your business has a listing on Yelp.com. Someone has a bad experience with your business and posts a review that says "horrible experience. Don't do business with these folks." Notice that they didn't use your business name and/or an employee name? That's why you need a "plan b" to cover what the alerts can't pick up. We use a software tool that allows us to be notified when any change has been made to a specific review site. This is called page differentiation. When something is "different" on one of your review sites, we'll know about it immediately…even if they didn't use names.
Responding to Positive Reviews: We continually monitor alerts and page differentiation notifications and communicate with our ORM clients of all reviews that are being posted about them, both good and bad. A golden rule is to always respond to a positive review! Someone's taken the time to praise your business and the least you could do is publicly thank them for their kind words!
Responding to negative reviews can be a tricky business. From a public relations perspective, sometimes it's best to let sleeping dogs lie. In many instances though, a response is warranted. There are a few types of negative reviews that we encounter on a regular basis:
Thoughtfully Negative – This is the person who posts a review of your business without using derogatory language.
Over the Line – This is the person who posts a review of your business and uses defamatory and/or libelous language, which is defined as an untrue statement about your business, an employee, etc., which can cause significant damage to the reputation of those mentioned.
I/We Don't Know You – Who is this person? You've looked through your client lists, receipt records, emails and you can find no trace of this person. None. Maybe they were confused?
So do you respond or not? This should be decided on a case-by-case basis and should include the consultation of a seasoned public relations professional to assist you in not only making the decision but who can also assist you in crafting your response. In most cases you will…in a few, you won't.
But have no doubt that what is being said can have a significant impact on your business and to turn a blind eye to those words can carry significant consequences. If you're interested in obtaining our ORM services, please let us know. To read more about how negative experiences can impact your business, read our previous post "Word-of-Mouth Wildfire" originally published by Senior Market Advisor Magazine here.