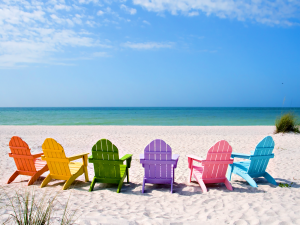 Please don't give away a cheap plastic pen with your logo on it...please! More than 60 percent of the time, your pen (and your money) will end up in the trash. If you're going to spend money on promotional items, spend it on something that works!
It's the summer and it's been a hot one! Get creative with summer-themed giveaways for clients and prospects! Our preferred vendor for promotional items is 4Imprint.com. The following suggestions are from their site. We've had great success on behalf of clients ordering from their site and have received excellent service as well as products that exceed expectations.
Here are a few cost-effective and creative summer-themed promotional ideas:
Car Sun Shade – These collapsible and very portable shades are often a hit during summer months for almost every driver. Your logo can be imprinted on the side of the shade that faces outside of the car virtually turning your client's or prospect's car into a mobile advertising opportunity! These range from $4.59-$8.99/each and can be ordered in as small of a quantity as 25. You can find them here.
Portable Mister – People are spending time by the pool, BBQing, and at the beach this summer. Why not give them a way to cool themselves at a very inexpensive cost to you? Take a look at the "Mini Personal Mister"! It's portable, easy to use, and effective in cooling down on those hot days! These range from $1.95 to $3.35/each, come in a variety of colors, and can be ordered in as small of a quantity as 100. You can find them here.
Beach/Pool Tote – Give your clients and prospects a way to carry their towels, sunscreen, toys, and drinks in a summertime tote! These range from $5.25 to $8.75/each, come in three different colors with your logo screen printed on both sides, and can be ordered in as small of a quantity as 30. You can find them here.
Again, get creative and think outside the box this summer! Your logo will thank you!
---
Shout Out LLC is a full-service marketing, public relations, and communications firm located in Knoxville, Tennessee and serving clients across the nation.